James E. Black Cadillac,

Founded 1958!
Phone Numbers:


(814) 472-9550 Local


(877) 472-9550 Toll Free




(814) 472-4741 Fax



E-mail Accounts:


Sales@GMoutlet.com




Service@GMoutlet.com


GMPP@GMoutlet.com




Address:




3929 Admiral Peary Highway




Rt 22 West




Ebensburg

, Pa. 15931








Ethnic Foods are the result of generations of hard working families using the most abundant, lowest cost food products from there area to feed their families. Foods that the "upper crust" would not eat generation's ago are now served in our best restaurants!
---



THE BEST Chicken Tortilla Soup!



This is a recipe we have used and loved. It is also very healthy. It only has 187 calories for a generous 2 cup serving. This recipe has been a huge hit with everyone who has ever tried it. We make it almost weekly, and the leftovers are eaten immediately. It is also very healthy! It is a little spicy, so if you don't have too much of a tolerance for spicy foods, you may choose to leave out the seeds of the jalapeño (recommended to take ALL seeds out – it is very HOT with seeds). If you love VERY spicy, leave the seed in and add extra cayenne pepper. Enjoy!


2 teaspoons extra virgin olive oil
1 medium onion, rough chopped
6 garlic cloves, fine minced
1 medium jalapeno pepper, fine chopped (take ALL seeds out of jalapeno)
1/2 medium green bell pepper (small ¼" squares)
4 small boneless skinless chicken breasts (or 3 med. sized)
2 cups frozen corn nib-lets
1/2 cup dry white wine or water (I used the white wine – dry white chardonnay )
2 teaspoons powered cumin
1 teaspoon powered chili powder
1/4 teaspoon powered cayenne pepper (not a drop more)
2 (32 ounce) boxes chicken broth (lowest sodium levels you can find)
1 (28 ounce) can diced tomatoes (lowest sodium levels you can find – 190 to 220mg)
2 (8 ounce) cans tomato sauce (no salt added on can)
1 (14 ounce) can black beans (well rinsed & drained)
5 baked tortilla chips on top of each bowl of soup when served (baked scoops worked best – less fat)

Optional Toppings:
My Taste Preference is with NO Sour Cream / Avocado-Guacamole / Mexican Cheese Added – as cooked above it is so good that the additional calories are not needed - Taste soup without a. or b. below to test if desired before adding.

a. Sour Cream or Avocado/Guacamole dollop on top, optional
b. Shredded Mexican Cheese Mix sprinkled on top, optional



Directions:
1. Sauté onion, garlic, jalapeño and green pepper with olive oil in a large pot until soft.
2. Add all the rest of the ingredients to the large pot (with entire uncut raw skinless boneless chicken breasts) and bring to a boil (Med. Hi) with a lid.
3. After about 15 minutes boiling, remove the chicken breasts and shred. (Two forks work well to pull the chicken apart!).
4. Return shredded chicken to the pot and simmer (Med. Low) an additional 45 minutes with a lid.
5. Serve, topped with baked tortilla chips. (I do not add any salt because of salt in tomatoes & tortilla chips).


Nutrition Facts *
Calculated for 1 serving (406g)
(406 g = 14.32 oz)
Recipe makes 10 servings

Calories 164
Calories from Fat 27 (16%)
Amount Per Serving %DV
Total Fat 3.1g 4%
Saturated Fat 0.6g 3%
Polyunsat. Fat 0.7g
Monounsat. Fat 1.4g
Trans Fat 0.0g
Cholesterol 27mg 9%
Sodium 911mg 37%
Potassium 690mg 19%
Total Carbohydrate 16.5g 5%
Dietary Fiber 2.7g 10%
Sugars 5.3g
Protein 16.9g 33%
Vitamin A 397mcg 7%
Vitamin B6 0.5mg 26%
Vitamin B12 0.3mcg 5%
Vitamin C 19mg 32%
Vitamin E 1mcg 3%
Calcium 54mg 5%
Magnesium 42mg 10%
Iron 2mg 13%
Alcohol 1.2g Caffeine 0.0mg


• Nutrition Facts are without the Baked Tortilla Chips or any additional optional toppings. All nutritional facts are from the original recipe calculations and are not our figures.


---
TRANSYLVANIAN GOULASH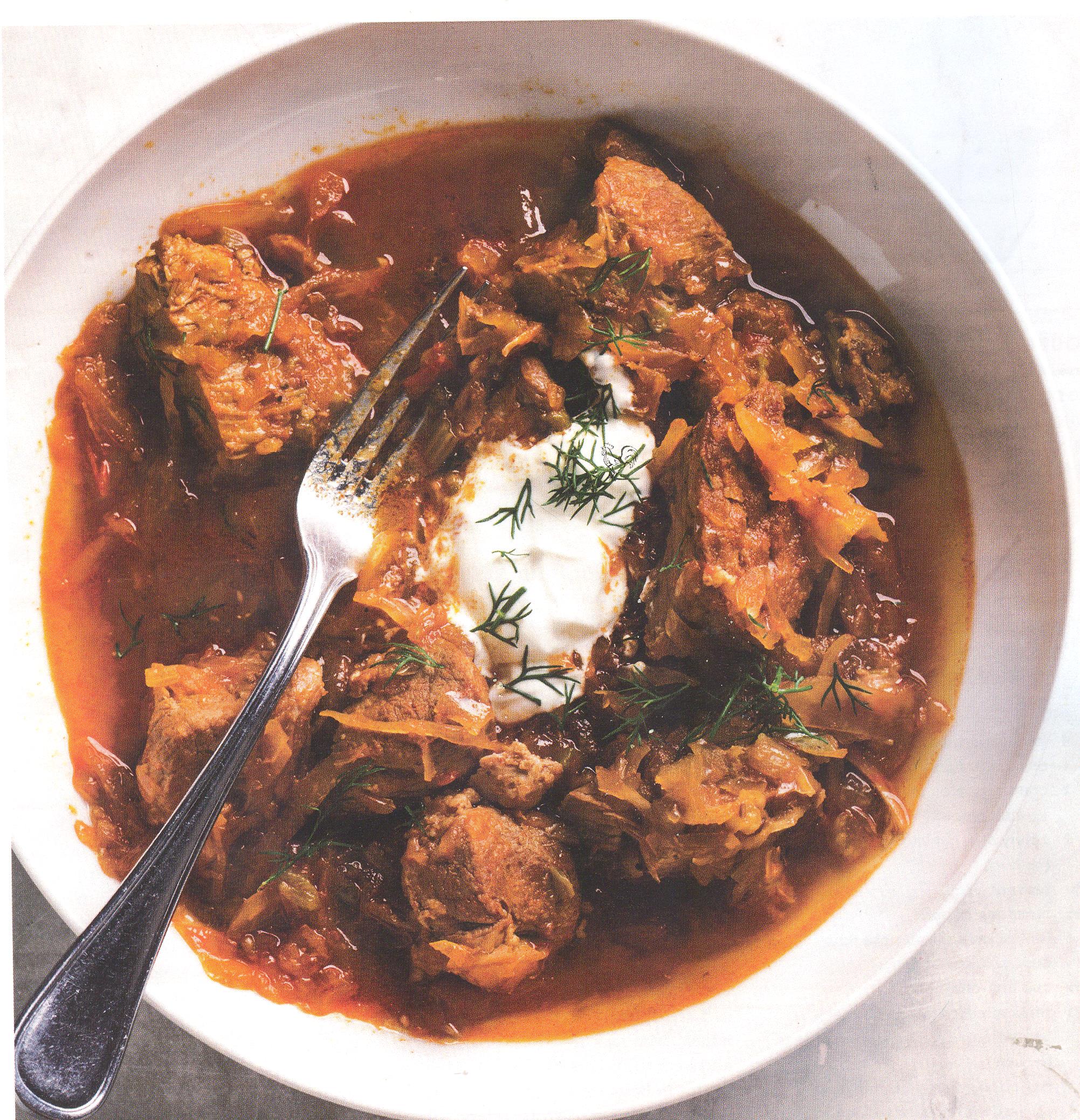 3.5 lbs bonless pork butt roast (called boston butt) trimmed and cut into 1.5" peices
salt and pepper
1 tablespoon vegetable oil
1 onion chopped fine
1 green bell pepper, stemmed, seeded and chopped fine
2 celery ribs chopped fine
1 plum tomato chopped
3 tablespoons sweet paprika (unopened new bottle, goes stale fast - best rated - The Spice House Hungarian SWEET Paprika)
1 tablespoon caraway seeds
2 garlic cloves, minced
3 cups water
2 cups sauerkraut, rinced and drained
Sour Cream
Minced Fresh Dill

1. Adjust oven rack to lower-middle position and heat oven to 325 degrees. Pat pork dry with paper towels and sprinkle with 1 teaspoon salt and 1/2 teaspoon pepper.
2. Heat 1 tablespoon veg. oil over medium-high heat until just smoking. Add half of pork and cook, stirring occasionally, until brown on all sides, about 8 minutes; transfer to bowel. Repeat with remaining 1/2 of pork. (Reduce heat if bottom pf pot begins to scorch)
3. Reduce heat to medium. Add onion, celery, tomato and 1/2 teaspoon salt to now empty pot and cook until vegetables are softened and liquid has evaporated, 8 to 10 minutes, scraping up any brown bits.
4. Add paprika, caraway seeds, and garlic and cook until fragrant, about 1 minute. Stir in water, pork and any accumulated pork juices and bring to simmer, scrapping up any browned bits. Cover, transfer to oven, and continue to cook for 1 hour. After 1 hour in oven stir in rinced and dried sauerkraut, cover, return to oven for about 30 minutes longer (until pork is fork tender).
5. Using a wide spoon, skim off and surface fat, Season with salt and pepper to taste (I needed no more to taste) Serve, garnish with 1 dollop of sour cream and little minced dill (strong spice).

Can service with white rice but we preferred to dip with crusty rustic bread. Very tasty as it turns a very inexpensive $1.75 per pound pork but / boston but meat into something special and hearty.



---

Disney's Wilderness Lodge – Whispering Canyon Café – Apple Vinaigrette Dressing/Salad

Yield: 15 Ounces

Ingredients:

¼ Cup Cider Vinegar (plus 1 Tbsp if you like more vinegar effect)
¼ Cup Apple Juice
2 Tbsp Lemon Juice
½ Cup Smooth Applesauce
½ Tsp Salt
½ Tsp White Sugar
1 1/3 Cup Canola Oil

Method of Preparation:

1. Place all ingredients except Canola Oil in Blender. Blend until smooth.
2. Drizzle the Canola Oil in slowly threw small access hole, blending entire time.
3. Keep refrigerated in an airtight container.


Place over Chop Salad including:

Chopped Iceberg Lettuce, grill chicken breast then cube to ½", small cubed apples (skin removed) with light coating of lemon juice to stop browning, chopped hard boiled eggs, sharp cheddar shredded cheese, dried cranberries, chopped walnuts (toss chopped walnuts – lg. chunks – I split in half - with maple syrup then heat on baking tray at 325f for 18 min – allow to cool), pepper.


---
Panera Bread Fuji Apple Chicken Salad Copycat: - ONE OF THE BEST SALADS EVER!!





Ingredients:



2 TBL White Balsamic Vinegar (Walmart)
2 TBL Apple Cider Vinegar
3 TBL Honey
3 TSP Dijon Mustard
2 Small Cloves Finely Chopped Garlic
2 Small Shallots Finely Chopped
2/3 Cup Extra Virgin Olive Oil (EVOO)



Method of Preparation:



1. Place all ingredients except EVOO in Blender. Blend until smooth.
2. Drizzle the EVOO slowly thru small access hole, blending entire time.
3. Keep refrigerated in an airtight container.




Place over Chop Salad including:



Chopped Iceberg Lettuce with Spring Mix Lettuce added, grilled chicken breast then cut to desired size, Fuji Dried Apple Chips, chopped hard boiled eggs, Gorgonzola Cheese, dried cranberries, chopped pecans (beforehand toss chopped pecans – lg. chunks – I split in half - with maple syrup then heat on baking tray at 325 for 20 min – allow to cool - do not allow to burn), pepper.

Note: Dressing is more yellow/golden color than Panera's but tastes very similar (I think a little better and no preservatives). It will be VERY thick when done. Make the day before and keep in refrigerator for flavors to develop. We miss Panera's Good Bread so we bake Pepperidge Farm Stone Baked Artisan French Bread Dinner Rolls (8 rolls in frozen bread section of Walmart for $2.89).

Dinner Rolls are almost as good as Panera's excellent homemade bread and the Salad/Dressing is a little better

.




---



Irish Beef Stew w/ Guinness Beer



Ingredients
• 1/4 cup olive oil
• 1 1/4 pounds well-marbled chuck beef stew meat, cut into 1-inch pieces (NOT extra-lean)
• 6 large garlic cloves, minced
• 6 cups beef stock or canned beef broth
• I cup of Guinness beer
• 1 cup of fine red wine
• 2 tablespoons tomato paste
• 1 tablespoon sugar
• 1 tablespoon dried thyme
• 1 tablespoon Worcestershire sauce
• 2 bay leaves
• 2 tablespoons (1/4 stick) butter
• 3 pounds russet potatoes, peeled, cut into 1/2-inch pieces (about 7 cups)
• 1 large onion, chopped
• 2 cups 1/2-inch pieces peeled carrots
• Salt and Pepper
• 2 tablespoons chopped fresh parsley
Method
1 Heat olive oil in heavy large pot over medium-high heat. Lightly salt the beef pieces. Working in batches if necessary, add the beef (do not crowd the pan, or the meat will steam and not brown) and cook, without stirring, until nicely browned on one side, then use tongs to turn the pieces over. Continue to cook in this manner until all sides are browned, about 5 minutes. Add garlic and sauté 1 minute. Add beef stock, Guinness, red wine, tomato paste, sugar, thyme, Worcestershire sauce and bay leaves. Stir to combine. Bring mixture to boil. Reduce heat to medium-low, then cover and simmer 1 hour, stirring occasionally.
2 While the meat and stock is simmering, melt butter in another large pot over medium heat. Add potatoes, onion and carrots. Sauté vegetables until golden, about 20 minutes. Set aside until the beef stew in step one has simmered for one hour.
3 Add vegetables to beef stew. Simmer uncovered until vegetables and beef are very tender, about 40 minutes. Discard bay leaves. Tilt pan and spoon off fat. Transfer stew to serving bowl. Add salt and pepper to taste. Sprinkle with parsley and serve. (Can be prepared up to 2 days ahead. Cool slightly. Refrigerate uncovered until cold, then cover and refrigerate. Bring to simmer before serving.)
Serves 4 to 6.


---

Mrs. Nagle's Tomato Sauce (Passed Away at 87 Years Old on Mothers Day, 2006)

Recipe from scratch – Passed down over 6 known generations from Southern Italy. Southern Italy has olives to make oils and garlic and few cows thus were more based on oils and garlic than northern Italy that used butter/cream from their cows.

Ingredient List:



• ½ Cup Canola Oil (can use olive oil but canola is less likely to burn and less expensive – more neutral taste)
• 6 to 8 Med. Cloves Fresh Crushed & Minced Garlic to Universal Small Size
• Optional: Hamburger 80-20 or Sweet Sausage or Pork
• Qty 2 – 28 Oz Can Pear Tomatoes with Basil (Wal-Mart Great Value Brand – Nothing added in can except tom. & basil)
• Qty 1 – Small Can Tomato Paste (Contadina Brand)
• 1 TBSP Un-Salted Garlic Powder
• 1 TSP Dry Parsley
• 1 Light TSP Salt (If you used Optional Sweet Sausage cut salt in half)
• 1 Heavy TSP Pepper
• ½ TSP Dry Oregano (Not a Drop More)
• 1 TBSP Very Good Extra Virgin Olive Oil
• San Giorgio Fine Spaghetti



Directions:

a.) In Large Dutch Oven (ALWAYS with lid off – Non Reactive Metal – I use a porcelain coated cast iron Dutch Oven) at Medium Heat add ½ Cup Canola Oil
b) Add 8 Med. Cloves Fresh Crushed Garlic and Minced to Universal Small Size Garlic and put in oil until GOLDEN BROWN – 5 to 7 min. (do not burn)
c.) Optional: Add Hamburger 80-20 or Sweet Sausage or Pork & Brown in Garlic Infused Oil then proceed as below – Just brown do not need to cook through
d) After garlic is golden (and meat browned – Optional) put blended tomatoes in Dutch Oven (see how below)

Blended Tomatoes:



• Qty 2 – 28 Oz Can Pear Tomatoes with Basil (Wal-Mart Great Value Brand – Nothing added in can except tom. & basil)
• Qty 1 – 6 Oz Can Tomato Paste (Contadina Brand)
• Put In Blender 2 cans of tomatoes with broth from can with tomato paste & blend with 3 quick pulses to break apart (if you like chunks use less pulses or hand crush)
• Note: Depending on size of blender you might have to do in 2 batches (if hand crushed you save dirtying your blender)



e) After blended / crushed tomatoes are in pot mix well with oil / garlic in pot & mix spices into tomatoes:



• 1 TBSP Un-Salted Garlic Powder
• 1 TSP Dry Parsley
• 1 Light TSP Salt (If you used Optional Sweet Sausage cut salt in half)
• 1 Heavy TSP Pepper
• ½ TSP Dry Oregano (Not a Drop More)



f) DON'T BURN – Turn to Med Low with few small bubbles (if gas stove you can put a cast iron griddle under pot to keep from burning).



• Stir every ½ hour to keep bottom from burning.
• Cook 2 hours and check with peace of white bread for additional salt & pepper to taste – still bitter at 2 hours
• Cook 2 more Hours (4 total) – not bitter and mildly sweet at 4 hours.



g) Take off heat & add 1 TBSP very good Extra Virgin Olive Oil to Tomato Sauce & put on Pasta


h) San Giorgio Spaghetti - Cook to preference & do not rinse starch off – drip dry


I) Pull pasta up thru sauce to serve. Not 1 drop of sugar & it is naturally cooked slightly sweet.

This recipe cannot be short circuited as the start of the natural sweetening process that starts with the caramelizing of the minced fresh garlic that ends with the four hour low cooking of the sauce. The sauce does not loose its bitterness until after the 3 hour mark. The vast majority of good Italian cooks use a small amount of sugar to accomplish what this recipe does naturally. This is the best spaghetti sauce I ever tasted and it is very easy to accomplish.

Grab some Crusty Italian Bread, a Bottle of Your Favorite Red Wine, Some Friends and for Less than $20 you have a real treat.



---




Very Easy Grill Pork Chop Marinade



¼ Cup Peach Preserve
1/3 Cup Honey Mustard
2 Tablespoons Lemon Juice

Combine (do not heat marinade) & brush on often on grilled pork chop. Do not reuse as it will be contaminated.


---



Walt Disney World - Beach Club Resort: Cape May Café Clam Bake - TOMATO SOUP/BISQU

E


I had this Bisque for Thanksgiving Dinner for the past 3 years & it is the best. I obtained the recipe from the resort. (I did not add salt because the canned tomatoes had enough salt for my taste) I made this with the heavy cream (sometimes called heavy whipping cream) and it was perfect but heavy. I also made with ½ light whipping cream and ½ skim milk and I liked it better because the tomato taste was not overpowered by the cream.

Ingredients:
4 cans Whole Plum Tomatoes-16 ounces (I used qty 2 – 28oz cans & qty 1 – 14.5oz can & it was fine)
8 ounces Diced Celery
8 ounces Diced Onions
8 ounces Diced Carrots
1 quart Heated Heavy Cream – do not boil or burn the bottom
2 ounces Chopped Fresh Basil
To taste Salt and White Pepper (I added no salt & 1.5 teaspoons white pepper)
6 ounces Tomato Paste

Method of Preparation:
1. Drain liquid from canned tomatoes and save to add later
2. Place Plum Tomatoes on a dry/not oiled sheet pan and roast in the oven for 30 minutes on 350°F
3. Sauté onions, celery and carrots in heavy stockpot and cook until translucent.
4. Add roasted tomatoes with any juice that cooked off sheet pan in step 2, reserved juice from step 1, and tomato paste to stockpot.
5. Cook for 40 minutes at medium heat with a covered lid – stir every 10 min's. & re-cover.
6. Puree mixture with a stick blender until vegetables are not visible (or put in blender in batches if you do not have a stick blender).
7. Add all warm cream.
8. Finish with salt and pepper to taste (I added no salt & 1.5 teaspoons white pepper).
9. Add fresh chopped basil at the end.



---

Crusty French Rolls Recipe

• Save time by letting your bread machine knead the dough for these hearty, chewy rolls with a wonderful golden crust. "They're the best eaten the day they're baked or frozen for later."
• 18 Servings• Prep: 20 min. + rising Bake: 25 min.

Ingredients
• 1-1/4 cups water (70° to 80°)
• 2 teaspoons sugar
• 1 teaspoon salt
• 3-1/2 cups bread flour
• 1-1/4 teaspoons active dry yeast
• 1 tablespoon cornmeal
• 1 egg white
• 1 tablespoon water

Directions
• In bread machine pan, place the first five ingredients in order suggested by manufacturer. Select dough setting (check dough after 5 minutes of mixing; add 1 to 2 tablespoons of water or flour if needed). When cycle is completed, turn dough onto a lightly floured surface. Divide into 18 portions; shape each into a round ball.
• Place on a lightly greased baking sheets; sprinkle with cornmeal. Cover and let rise in a warm place until doubled, about 45 minutes. Beat egg white and water; brush over dough. Bake at 375° for 15 minutes; brush again with glaze. Bake 10 minutes longer or until golden brown. Yield: 1.5 dozen.

Editor's Note: This recipe can be prepared in a 1-1/2-or 2-pound bread machine.
Nutritional Analysis: One roll equals 101 calories, 133 mg sodium, 0 cholesterol, 20 gm carbohydrate, 4 gm protein, trace fat. Diabetic Exchanges: 1-1/2 starch.


---




Creamy Pumpkin Soup (I doctored Libby's recipe)



Estimated Times:
Preparation - 10 min | Cooking - 25 min | Yields - 5 servings - ABOUT $4.50 total for a serving of 5

A velvety-smooth pumpkin soup that's perfect for a Thanksgiving day first course.
Source:

Ingredients:
• 1/4 cup = 1/2 stick unsalted butter or (low fat / lower calorie margarine – I cant believe it isn't Butter - Stick)
• 1 small onion, chopped – ½ cup chopped
• 1 clove garlic, finely chopped
• 2 teaspoons packed brown sugar or (2 teaspoons packed light brown sugar & 1 pack of Splenda)
• 1 can (14 1/2 fluid ounces) chicken broth – (low sodium & fat free)
• 1/2 cup water
• 1/2 teaspoon salt (optional to taste – most likely needed)
• 1/4 teaspoon ground black pepper
• 1 can (15 ounces) LIBBY'S® 100% Pure Pumpkin
• 1 can (12 fluid ounces) CARNATION® Evaporated Milk or (Low Fat CARNATION® Evaporated Milk)
1. next time I will try one 6oz can regular Evaporated Milk & 6oz skim milk to lower calories
• 1/4 teaspoon ground cinnamon – dried spice
• 1 teaspoon fresh minced ginger finely chopped with skin removed
1. (1/2" small ear of root is more than enough - $0.10 Wal-Mart)
• 1 small pinch of nutmeg – fresh or dried spice
• 1 small pinch cloves – dried spice
Directions:
MELT butter in large saucepan over medium heat (do not brown butter). Add onion and cook at medium for 6 minutes (do not let burn – gets rid of any strong onion taste) and then add minced garlic, minced ginger and light brown sugar, stir and cook for 2 minutes until melted together (do not let garlic or ginger get bitter and burn). Add broth, water, salt (optional to taste ½ now – ½ at end to taste ??) and pepper; bring to a boil, stirring occasionally. Reduce heat to low; cook with lid on, stirring occasionally, for 15 minutes. Stir in pumpkin, evaporated milk, 1 pack of Splenda if light brown sugar used, cinnamon, nutmeg and cloves. Mix well and cook heat still at low, stirring occasionally, for 5 minutes. Remove from heat (the idea is not to get to hot to handle when blending).

TRANSFER mixture to food processor or blender or use stick blender if you have one (in batches, if necessary); process until smooth. Return to stove at low. Taste for Salt / Pepper / Sweetness (Splenda) Levels (it should taste like a "not as sweet / slightly sweet" warm pumpkin pie with a nice note of pepper). Serve warm with a dollop of sour cream if desired or oyster cracker.

Calories are using non-reduced calorie ingredients:

NUTRITION FACTS


Serving Size 1/5 of recipe
Calories 230
Calories from Fat. 140
% Daily Value
Total Fat 15g 24%
Saturated Fat 10g 48%
Cholesterol 50mg 16%
Sodium 490mg 20%
Carbohydrates 17g 6%
Dietary Fiber 4g 15%
Sugars 12g
Protein 7g
Vitamin A 220%
Vitamin C 2%
Calcium 20%
Iron 4%
* Percent Daily Values are based on a 2000 calorie diet


---



Marinated Chicken Sandwich



3 lbs of chicken breast cut in half (thin in half - will make 8 Sandwiches).
8 Good Buns

Marinade place in large sealable zip lock bag:
**************************************
¼ cup Canola Oil – Heart Healthy or Vegetable Oil
2 Tablespoon Lemon Juice
2 Tablespoon Honey
2 Tablespoon Low Salt Soy Sauce
1/2 Small Onion Finely Minced
1 Large Jalapeño (seeds removed) Finely Minced
:: If you like it hot add one small Serrano Chilly Finely Minced – Seeds and all
4 Large Cloves of Fresh Garlic Finely Minced
2 "Quarter – 25 cents size" of Fresh Ginger Finely Minced
1 Teaspoon Pepper
1/4 Teaspoon Salt (have salt in Soy Sauce)

Place Marinade in Large Plastic Bag with Chicken Breasts
Leave in Marinade in Refrigerator for a minimum of 2 hours and preferably 8 hours (turn over & shake bag every so often)
Oil Grill Grates & Grill Chicken on hot grill. It will not take long as you cut the Chicken Breasts in Half (Thinned).
Place on good bun with favorite condiments (Mayo or Sweet/Hot Mustard, Pepper Cheese, Slice of Onion, Tomato & Lettuce)

This Cooked Chicken will be too bold to eat plane but will hold its own and not get lost in taste in a sandwich.


Raspberry Vinaigrette: (from Kim)
1/3 Cup Raspberry Jelly – non diet type (I will try type with splenda to see if acceptable)
¼ Cup EVOO
½ Cup Red Wine Vinegar
¼ Teaspoon Salt


---



Cat Cora's Greek Cinnamon Stewed Chicken, Koto Kapama



Try chef Cat Cora's recipe for Greek Cinnamon Stewed Chicken, a savory entrée from her complete seven-day menu.
Servings: Serves 4
Ingredients
1 chicken (2 1/2 to 3 pounds), cut into 8 pieces (legs, breast and thighs, bone left in with skin)
1 tsp. ground cinnamon
2 tsp. kosher salt
1 tsp. freshly ground black pepper
5 cloves garlic , peeled and minced
2 Tbsp. extra-virgin olive oil
1 large yellow onion , peeled and coarsely chopped
1.5 cups water (or to bump up the flavor can use 1.5 cups low sodium chicken broth)
½ cup dry white wine (or can save $ and use ½ cup water)
1 can (6 ounces) tomato paste
1 Tbsp. dried Italian herb seasoning
1 Chopped Tomato – remove seeds & juice.
1 cup orzo , cooked according to package directions (liquids above are not for orzo but for the chicken & sauce – use additional liquids directed on package of orzo)
1/2 cup grated Parmesan cheese or Mizithra cheese if you can find it – more authentic.
Note: Some people use all water and some use wine & chicken broth – all have said it is the best chicken meal they ever tasted using either method – using the water method the meal for 4 cost approx $6.50 or $1.63 each.
Directions
Preboil water with sea salt.

Pat the chicken dry with paper towels. A wet chicken will cause the oil to splatter while the chicken is sautéing. Mix the cinnamon, salt and pepper in a small bowl. Rub the chicken pieces on all sides with the seasoning.

Heat the olive oil in a large, nonreactive, deep skillet over high heat. A 12-inch skillet with sides about 2 1/2 to 3 inches high will allow you to brown all the chicken at once. If you don't have a skillet large enough, brown them in two batches using 1/2 the oil for each batch. What's important is that the chicken isn't overcrowded, which would cause them to steam rather than brown.

Add the chicken to the oil and brown for about 4 to 5 minutes on each side. Turn the pieces using a metal spatula, as they have a tendency to stick to the pan. Remove the pieces when they are well browned on all sides.

Mince three of the garlic cloves. Lower the heat to medium-high, and add the onions and minced garlic. Cook for about 3 minutes, stirring constantly, until the onions have softened and are a rich golden brown. Add 1/2 cup of the wine (or 1.2 cup water to save $) and scrape the bottom of the pan with a spatula or spoon to deglaze the pan, loosening any particles stuck on the bottom.

When the wine has evaporated, add the 1.5 cups of water (or 1.5 cups chicken broth), tomato paste, Italian seasoning and remaining 2 garlic cloves, minced.

Return the chicken to the pan. The liquid should cover about 3/4 of the chicken pieces. Cover the pot and simmer over medium-high heat for about 30 to 40 minutes, or until the chicken is tender and thoroughly cooked. If the sauce becomes too thick, it can be thinned with a little more water. Add chopped tomato towards end (5 min before done). Season the finished sauce with kosher salt and pepper to taste. Serve over orzo, cooked according to package directions, and sprinkle Parmesan or Mizithra cheese on top.


---



Citrus Vinaigrette Salad



4 Tablespoon Chopped Fresh Parsley (or 2 Tablespoon DRIED Parsley if you do not have fresh)
½ Cup Orange Juice (fresh or good bottled)
½ Cup White Grapefruit Juice
4 Tablespoon Raw Honey (1/4 Cup)
¾ Cup LIGHT Olive Oil & ¼ Cup Extra Virgin Olive Oil (Total of 1 Cup Oil)
8 Tablespoon White WINE Vinegar (1/2 Cup)
The Grated Peel from 2 Oranges (No Pith Please)
1 Teaspoon Salt
½ Teaspoon Cayenne Pepper

Put all above in blender and mix for 2 minutes and place in refrigerator for min. of 1 hour (will last for 3 days in refrigerator).

Place over lettuce mix of iceberg and spring mix lettuce.

Add. Slivered Onions, Toasted Slivered Almonds or Walnuts (or Both), Dried Cranberries or Cherries, Crumbled Blue Cheese.

For Christmas Salad add all above and add Fresh Pomegranate Pods & Supreme Cut Oranges or Ruby Red Grapefruit (All membrane cut away).

Toss and Serve.


---

Chocolate Éclair Cake

The taste of this cake was so good everyone (well except for my mom) was swiping a taste while waiting for dessert. Even my 6 year old twins and my 8 year old were coming for little sneak bites of this cake. This recipe calls for making your own pudding which I feel really makes this cake taste far better than any other version I have had of this cake. And the dish is pretty simple to make so even a beginner can make an amazing cake without resorting to a boxed dessert. The pudding was creamy and ever so tasty (hint: you can make this as a stand alone pudding too). Don't be scared off by the instructions it's all very simple to do.

Chocolate Eclair Cake
Cooks Country June/July 2011

1 1/4 cup sugar
6 tablespoons cornstarch
1 teaspoon salt
5 cups whole milk
4 tablespoons unsalted butter, cut into 4 pieces
5 teaspoons vanilla
2 tablespoons water
1 1/4 teaspoons unflavored gelatin
2 3/4 cups heavy cream, chilled
14 ounces graham crackers (I used about one and one quarter boxes)
1 cup semisweet chocolate chips
5 tablespoons light corn syrup

Combine sugar, cornstarch, and salt in a large saucepan. Whisk milk into sugar mixture until smooth and bring to a boil, scraping bottom with rubber spatula, over medium high heat. Immediately reduce heat to medium low and cook, continuing to scrape bottom, until thickened and large bubbles appear on surface, 4 to 6 minutes. Off heat, whisk in butter and vanilla. Transfer pudding to large bowl and place plastic wrap directly on surface of pudding. Refrigerate until cool, about 2 hours.
Stir water and gelatin together in bowl and let sit until gelatin softens, about 5 minutes. Microwave until mixture is bubbling around the edges and gelatin dissolves, 15 to 30 seconds. Using stand mixture fitted with whisk, whip 2 cups cream on medium low speed until foamy, about 1 minute. Increase speed to high and whip until soft peaks form, about 2 minutes. Add gelatin mixture and whip until soft peaks, about 1 minute.

Whisk one third whipped cream whipped cream into chilled pudding, then gently fold in remaining whipped cream, 1 scoop at a time, until combined. Cover bottom of 13 by 9 inch baking dish with layer of graham crackers, breaking crackers as necessary to line the bottom of the pan. Top with half of pudding whipped cream mixture and another layer of graham crackers. Repeat with remaining pudding-whipped cream mixture and remaining graham crackers.
Microwave chocolate chips, remaining 3/4 cup cream, and corn syrup in a bowl, stirring occasionally, until smooth, 1 to 2 minutes. Cool glaze to room temperature, about 10 minutes. Cover graham crackers with glaze and refrigerate cake for 6 to 24 hours. Serve.


---
STRAWBERRY with BALSAMIC VINEGAR

Ingredients
4 pints (8 cups) fresh strawberries, sliced thick
5 tablespoons balsamic vinegar
2 tablespoon sugar
1/4 teaspoon freshly ground black pepper
2 pints vanilla ice cream, for serving
Freshly grated lemon zest, for serving


Directions
Thirty minutes to an hour before serving, combine the strawberries, balsamic vinegar, sugar, and pepper in a bowl. Set aside at room temperature.
Place a serving of the strawberries in a bowl with a scoop of ice cream on top and dust lightly with lemon zest.


---

Best Pot Roast EVER!

3 LB English Cut Shoulder Roast
Cut 2 White Onions in Half
Large Bag Carrots scrubbed but not peeled scrubbed clean & cut into 2" diagonals
1 head of garlic pealed clean but not cut, approx. 20 individual clover intact
1 head of celery cleaned & cut into 1 inch sections
Salt
Pepper
4 sprigs of thyme washed but not cut
2 sprigs of rosemary washed but not cut
2 – 32 oz low sodium beef broth
2 TBS Canola oil

a. Preheat oven to 275 Degrees F.
b. Heat canola oil in Med High Dutch Oven until whiff of smoke seen
c. Place 4 (2 onions cut in half) onions bottom side down & heavily brown bottom of onion
d. Remove Onions to large bowl (leaving all browned bits in bottom of pan)
e. Place all diced carrots in Dutch oven & place black marks over 30% of surface (do not cook thru only darken for flavor)
f. Remove Carrots to large bowl (leaving all browned bits in bottom of pan)
g. Liberally Salt & Pepper Beef & heavily sear ALL 6 sides in Dutch oven (leaving all browned bits in bottom of pan)… 8 to 10 min.
h. Remove Beef to pan w/ vegetables
i. Place ½ container low sodium beef both to Dutch oven to deglaze all browned bits (adding all that flavor to the dish)
j. Leaving Broth in Dutch Oven above, add to pot in order; Beef carrots, celery, onions, garlic & UNCUT 2 herbs on top. (adding any juices back to Dutch oven from bow ).
k. Add balance of low sodium beef to at least cover majority of vegies (5/8 high on pot), push garlic into liquid & cover lid
l. Place Covered Dutch oven on middle rack over drip pan for 4 hours at 275 Degree F. (no peaking it will be fine)

Serve next to Mash Potatoes or Cooked Egg Noodles. The smell will drive you crazy for 4 hours.













---
CADILLAC EBENSBURG
3929 Admiral Peary Highway, Ebensburg, Pa. 15931
SALES (877) 472-9550 Option 1
SERVICE (877) 472-9550 Option 2
James E. Black Cadillac www.gmoutlet.com