James E. Black Cadillac,

Founded 1958!
Phone Numbers:


(814) 472-9550 Local


(877) 472-9550 Toll Free




(814) 472-4741 Fax



E-mail Accounts:


Sales@GMoutlet.com






Address:




3929 Admiral Peary Highway




Rt 22 West




Ebensburg

, Pa. 15931



Why Buy Your Next Vehicle From James Black Cadillac?
Our Commitment to You is Simple:
Best Price Guarantee

: - We will be the best price when you are shopping or we will adjust to "

10% LOWER of the Difference

"!

Completely Satisfy our Customers

: - This dealership is ranked in the top 1% of the

Cadillac Customer Satisfaction Index (CSI) Sales and Service Surveys

Nationwide. Our Customers and Cadillac Ranks us in the top 1%!

Fix Your Vehicle Correctly the First Time

: - Our Technicians are ASE MASTER Rated (Highest Possible) and have completed 100% of ALL GM Training Requirements for the vehicles we sell and service

Your Problem is Our Problem

:- Call us day or night and we will help
a. Price:


Why is this important

? Most dealers claim their price is good, but we back this up with our above "10% of Difference Guarantee"... Details below:

Our dealership has less overhead than most New Vehicle Dealerships and we pass these savings on to our customers. We encourage you to shop for your next vehicle with confidence knowing we will honor our above "10% of price difference" guarantee in the unusual case another dealer is lower than our price.



If we do not have the exact color or configuration in stock, we at no additional cost, will locate your selection within 150 Cadillac dealerships located in the North East Region. Your selection can be located, if not in stock, in 24 to 48 hours. Of course, all Cadillac models can be special ordered and arrival is usually between 8 to 12 weeks. All GM Vehicles including Cadillac's sold in the North East "

MUST

" have the NE1 Emissions System - (Read Here) to meet State and Federal EPA requirements (

or face Federal $37,500 Fine

). NE1 Emissions Systems is California Emissions for the North East USA region required by Federal EPA Regulations (i.e. a "NE1 Emission System vehicle" can be sold in 49 states but a "FE9 Federal Emission System vehicle" can not be sold in the NE USA) . Therefore if you are looking for a new ATS, CTS, CT6, SRX, XT5, XTS or Escalade, thank you in advance for giving our dealership a look. We promise to give you a good price and treat you in a professional manner.

b. Customer Satisfaction:


Why is this important

? Most dealers state that their service is great, but our customers and GM/Cadillac rates us in the top 1% Customer Satisfaction Dealer - Sales & Service (CSI) in the USA... Details below:

James Black Cadillac has the highest customer satisfaction rating possible in the United States - tied in the top ranking nationwide among a very small number of dealerships nationwide. GM sends to all customers who purchases a new vehicle and all warranty service repair visits an independent non-dealership controlled survey that has the same questions for all US GM dealerships. James Black Cadillac has a perfect 100% GM Customer Sales & Service Survey (CSI). This is (+) 10% better than the competing GM dealerships in our area.

Our objective is simple - Do whatever it takes to take care of our customers

! See GM Ratings of our dealership below: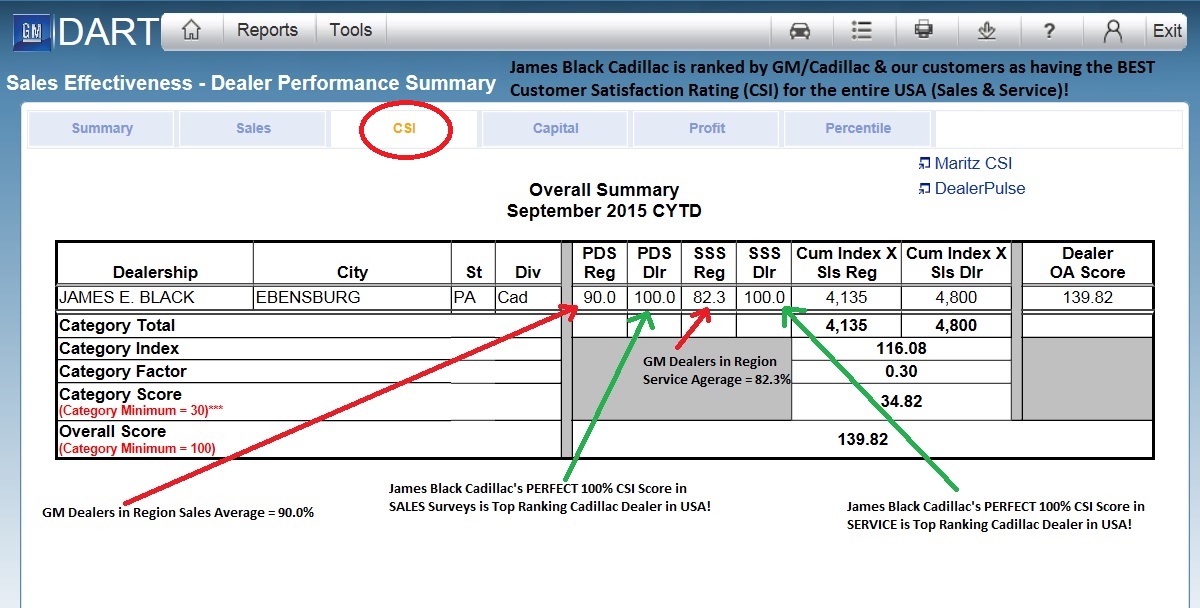 c. Training:

Why is this important

? Most dealers state that their service is great, but GM/Cadillac rates us as 217% Completly Trained to work on every Cadillac sold in USA (GM Nationwide Average was 98%)... Details below:
Every staff member at this dealership have taken and passed hundreds of GM training classes each. This dealership has a Technical GM Training Score of 217% and a Non-Technical (Sales, Service Advisor/Manager, Office) GM Training Score of 100% . To be above 100% in Service Training you need multiple technicians above 100% trained in each specific category. EVERY available GM training class for the vehicles we sell and service are completed and passed.

A well trained staff helps us fix your vehicle correctly the first time!

See our dealership GM training report card below: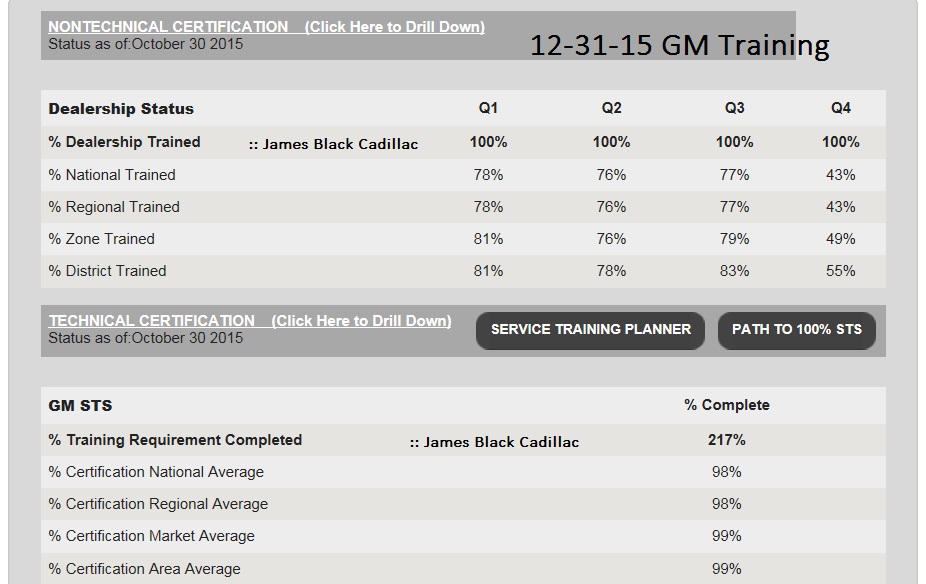 Each Mechanical sub-section of GM Required 2015 Training is completed (or exceded) as shown below....
This represents over 1,200 total classes completed by our staff to help us fix your vehicle right, the first time.

| | |
| --- | --- |
| GM Mechanical Areas of Training (as of 12-31-15) | Percent Complete - 2015 |
| Fundamentals | 100% |
| Fundementals - Tech Apprentice (Display Only) | 100% |
| Emerging Issues | 292% |
| Engine Performance | 200% |
| Diesel Engine Performance | 400% |
| Engine Repair | 200% |
| Electrical/Electronics | 200% |
| Manual Drivetrain & Axle | 200% |
| Automatic Transaxle/Transmission | 200% |
| Brakes | 200% |
| Steering & Suspension | 200% |
| HVAC | 200% |
| Mech/Elec/Body Repair | 200% |
| Advanced Technology Vehicles | 200% |
| Service Training Subtotal | 221% |
| Body Structual Repair (I-CAR) | 190% |
| Paint Certification | 200% |
| Body/Paint Training Subtotal | 195% |
| 2015 Overall Training Requirement Completed by James Black Cadillac | 217% |
| USA National Average | 99% |
| NE Regional Average | 98% |
| PA Market Area Average | 98% |
This dealership employees are ASE Certified and ASE Master Technicians. The ASE Certifications are listed below:

ASE Designations:

James E. Black Cadillac

ASE Certificates:
Most Recent Testing Period
Test Series
Last Printed
ASE Master Automobile Technician

*

2014 Summer
A: Auto
7/21/2014
ASE Collision Repair Technician
2014 Summer
B: Collision
7/21/2014

*Master ASE is the highest rating available!



ASE Certification Tests:
ASE Test Description
Expiration Date
Status
ASE - A1
Engine Repair
12/31/2018
Current
ASE - A2
Automatic Transmission/Transaxle
12/31/2018
Current
ASE - A3
Manual Drive Train & Axles
12/31/2018
Current
ASE - A4
Suspension & Steering
12/31/2018
Current
ASE - A5
Brakes
12/31/2018
Current
ASE - A6
Electrical/Electronic Systems
12/31/2018
Current
ASE - A7
Heating & Air Conditioning
12/31/2018
Current
ASE - A8
Engine Performance
12/31/2018
Current
ASE - A9
Light Vehicle Diesel Engines
12/31/2017
Current
ASE - B5
Mechanical & Electrical Components
12/31/2018
Current

d. Remodeled Facility:


Our dealership is completing our remodel plan with a completed new customer waiting area, newly remodeled Cadillac showroom and office areas. WiFi is free and accessible throughout our dealership. See

Photo Gallery

e. Enlarged GM Area of Prime Responsibility (APR):


GM tripled the size of our territory to include all of the Greater Johnstown Area after the closing of Wheeler Pontiac Cadillac of Johnstown. GM could have divided Johnstown among 3 of our GM competitors but had the faith in us to grant exclusive territory rights to James Black Cadillac. While GM was in reorganization they closed Cadillac dealers in Johnstown, Blairsville, Bedford, Kittaning, Huntingdon, Clearfield, and Cumberland. Our new enlarged territory includes all of Cambria County.



f. Longevity:


Our family owned dealership has been selling and servicing GM vehicles for over 58 years. We come to work every day striving to fully satisfy our customers.



g. Centrally Located:
Our dealership is located in central Pennsylvania. We are less than 30 minutes from Johnstown, Altoona, Blairsville, Indiana, Portage, Nanty Glo, Spangler and Barnesboro. We are 60 minutes from Monroeville, State College, Bedford, Dubois, and Clearfield. Our central location makes it easy for our customers to visit for shopping and service needs. We have lived in Cambria County all our lives. We have been at many of your weddings and sadly far too many funerals. We know this area and know our customers.

h. Better Than Wholesale Used Car Centers:


Our Pre-owned Vehicles are discounted in line with many wholesale centers pricing but we can repair your GM warranty needs as well as offer GM extended service contracts. Wholesale centers can not repair any manufacture's defects and dealerships can. Used car dealers do not have the GM service training, GM required to fix tools (over $100,000 in tools), GM parts in stock, GM update bulletins/manuals, GM vehicle software updates/programing, and the access to GM technical support to repair vehicles. If you buy at wholesale centers, you have no relationship with a dealership to schedule in fast for breakdowns/emergency.



Pre-Owned Vehicle includes 2 Keys and 2 Remote Entry Fobs, Owner's Manual, Complete Vehicle Detail, and 1/2 Tank of Gasoline*.

Often wholesale centers do not supply 2 keys, 2 remote fobs, and/or manuals. Owners often have to spend hundreds of dollars obtaining these items from GM dealers for what we include for free.

Pre-Owned Vehicle includes a fresh synthetic "GM Dexos" oil change with filter and an current PA State Inspection/Emission Sticker*.

Pre-Owned Vehicle includes a thorough Safety Inspection to certify to our purchasers that our vehicle is safe for your family*.

Vehicles that do not meet or exceed our high standards are repaired to standard or sent to auction for others dealers to buy who do not have our requirements.

Every Clean Carfax/Autocheck vehicle history is clearly stated on the vehicle and the results of paint MIL gauge detailing the paint readings are shown.

The paint gauge MIL reading is the most accurate proof of original paint. If the reading is from 4 to 9 MIL's, it is original paint. If over 9 MILS it is been repainted.

Carfax/Autocheck History Report is a good tool but at times can miss previous damage if they pay for the repair or if no police report was filed.

The majority of our pre-owned vehicles are still under the manufacturers GM warranty and we can complete all future warranty needs. All eligible warranties are transferred to the new owner.

We offer the 100% GM owned Service Contracts that provides extended coverage of all major repairs. This protects your investment for a longer period of time/mileage for peace of mind.
i. Free CarFax / AutoCheck:


Every pre-owned vehicle will be provided with a free "Vehicle History Report". Buy with confidence!



j. Charitable Contributions:


Because of your support to this dealership, we are able to give financial help to very needy children. Greater Johnstown Christian Fellowship in Johnstown PA. spearheads this effort and we know firsthand that 90% or more of any donations goes to the children and not overhead. Your support to our dealership has helped us donate a portion of the needed funds to feed over a hundred children, build a school, clean water treatment, medical center, vocation training center and church. Information about this worthy cause can be found at www.GJCF.org.





k. No Pester Policy:


Our dealership will not call you unless you call us first for information. We have a distaste of salespeople who call daily once you shop for a vehicle. WE PROMISE we will not call unless you desire us to call.



l. The Golden Rule Policy:


Our dealership every day treats all who enter our doors with respect and promises to do our best to meet your needs. We want you to be treated, like we want to be treated when we shop!




James Black Cadillac, 877-472-9550, Option 1 Sales




Salesperson ______________ New / Used / Demo Buy / Lease





Vehicle _________________________________________________________________





MSRP ______________________________ Notes:





Your Price ___________________________





Discount ____________________________





Trade ______________________________ Payoff _____________________________





Difference ___________________________





Sales Tax ___________________________





Cash Down _________________________





Balance ____________________________ Payment ___________________________ Term _________





* James Black Cadillac Pre-Owned Customer Benefits include 2008 and newer vehicles over $8,000.



---
---